The 10 best Help Desk Software 2022
What is a Help Desk software? What are the different types? How to choose the most functional service for your company's needs? What are the best 2022 Help Desk software.
WHAT IS A HELP DESK SOFTWARE?
The Help Desk is a tool used to automate the management of tickets and technical requests for support and assistance. It can be used to manage customer support relating to service malfunctions or the resolution of technical problems, such as hardware and software installations and failures.
A Help Desk Software collects all the communication from different channels into a single platform, allowing to better manage customer service, keep track of all user requests and communicate more easily and efficiently. Watch this video on the Deepser Help Desk software to find out more. Video Help Desk Software Deepser.
The Help Desk service is often confused with that of Service Desk. The difference between Service and Help Desk software, lies in the objective: the Help Desk aims to manage daily IT activities, providing support and technological innovation; the IT Service Desk has a broader mandate and aims at Continuous Service Improvement (CSI). Both the IT Help Desk and the IT Service Desk function as Single Point Of Contact (SPOC) but the Service Desk acts as a service provider to a corporate customer, rather than just managing user requests within the company.
WHAT TYPES OF SOFTWARE ARE THERE?
There are different types of help desk software. An easy way to classify them is as follows:
WHAT FEATURES TO CONSIDERATE FOR CHOOSING A HELP DESK SOFTWARE?
In the Help Desk Software Selection process, it is important to look for some specific characteristics. In particular, opt for:
WHAT ARE THE BEST 2022 HELP DESK SOFTWARE?
Below is a list of the best help desk software on the market.
1. DEEPSER
Deepser is an innovative Italian help desk & ticketing software developed to manage IT support and customer service in an integrated way. It serves SMEs and Enterprise companies. Installation is available cloud and on-premise.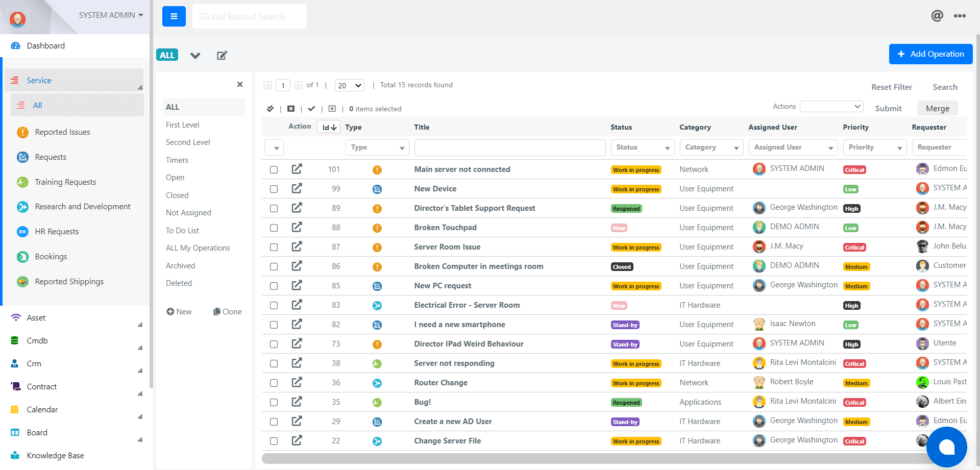 All Help Desk features are included in the basic license.
One of the pluses of Deepser is that all Help Desk functions are already included in the basic license. In addition to the complete Service Desk module , Deepser offers a CMDB for infrastructure management, CRM for sales team management, Escalation Rules, Timer and SLAs, Dashboard, Reporting and workflows for managing processes.
Intuitive software, easy to use and to configure.
There is no need to install plugins or use external tools. The configuration of the Deepser Help Desk software is simple and allows you to be operational very quickly. Both Help Desk operators and users can easily learn how to use the product, thanks to the very intuitive interface.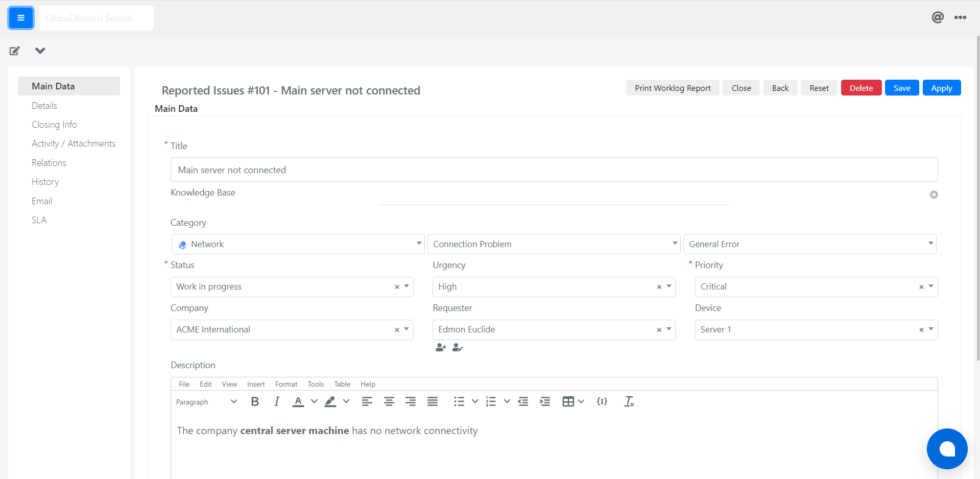 Complete customization for every business need.
All tools to configure the software to your business needs are included in the basic license. With Deepser, it is possible to customize fields, events, triggers, forms, views and notifications, calendars, reports and dashboards, as well as task automation and flexible ticket types.
Dedicated assistance
Deepser develops the software and direclty provides full support. For each project they dedicate a Project Manager who guides users in the correct configuration of the product.
You can test Deepser yourself now by activating a free demo.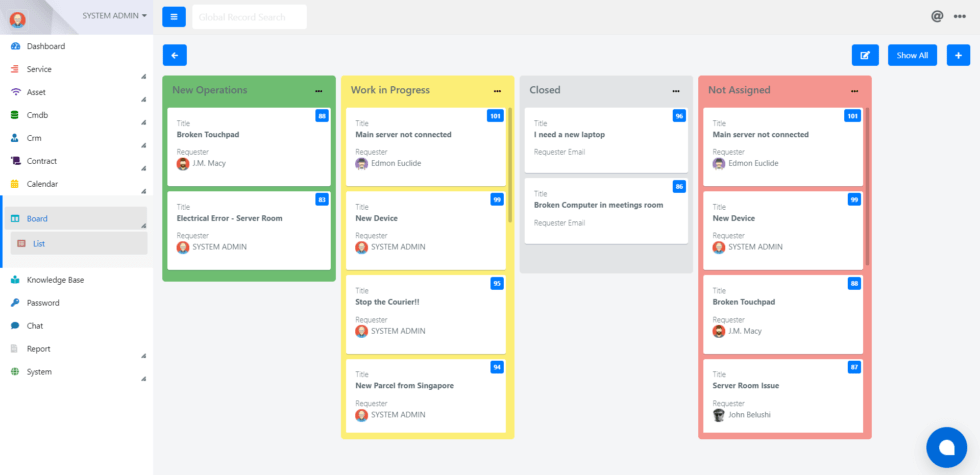 FEATURES
Deepser Help Desk software features include:
2. ZENDESK
Zendesk is a well-known software in the field of Help desk solutions. Multi-channel support, integrations and many features such as shared mailbox, knowledge base and live chat. It offers several advanced solutions based on artificial intelligence such as chatbots, however these are excluded from the basic plans.
Overall, it is a very complete product but at the same time also very complex and expensive. It requires a lot of time, energy and resources to be operational and for this reason it is not suitable for all types of companies.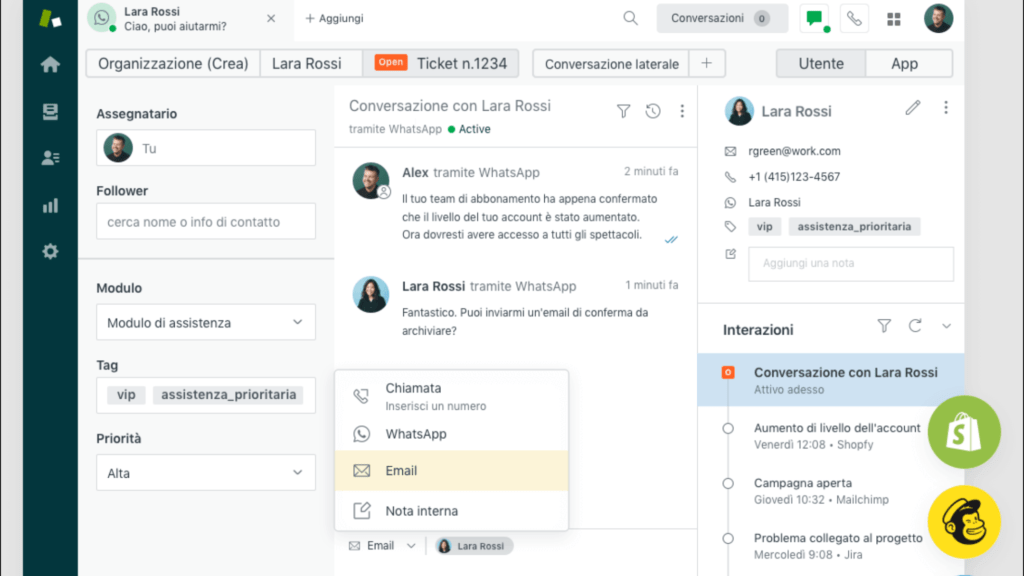 FEATURES
Zendesk Help Desk software features include:
If you want to know more you can see a comparison table on Zendesk.
3. FRESHDESK
Freshdesk is one of the best known and most appreciated cloud-based help desk software. As in Zendesk, among the most popular features are those based on AI, knowledge base and multi-channel communication support.
Freshdesk is a multipurpose help desk mainly suitable for Enterprise companies and adaptable very well to the needs of call centers.
It also has some third-party integrations and a number of optional additional features that are not available in the basic license.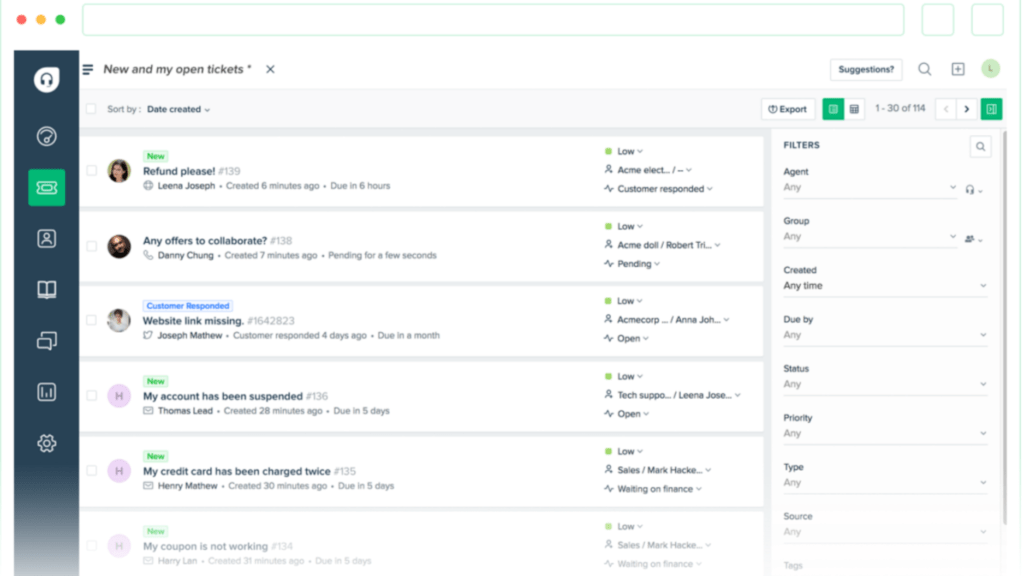 FEATURES
Freshdesk Help Desk software features include:
If you want to know more you can see a comparison table on Zendesk.
4. JIRA
JIRA Service Management by Atlassian is a cloud-based help desk software designed primarily for IT and support teams. Among the features available, we find automation tools, self-service, knowledge base, incident management and conversational ticketing.
Jira also allows you to manage workflows, create custom forms and assign statuses to certain activities to keep everyone involved informed. However, many features are excluded from the base license.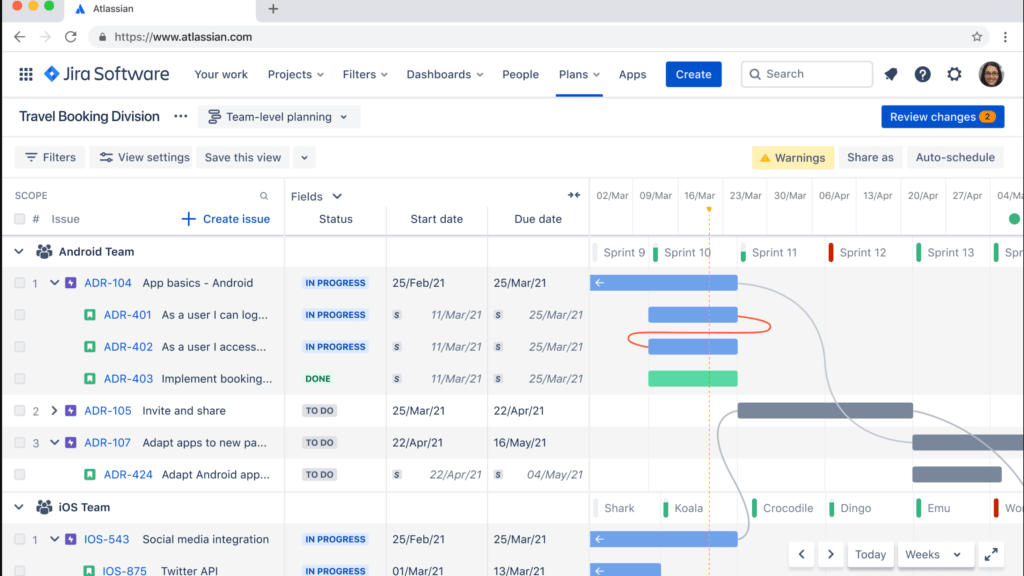 FEATURES
Jira Help Desk software features include:
To learn more about all the product features you can see a comparison table on Jira.
5. SYSAID
SysAid is one of the best-known IT help desk software solutions on the market, focused on automation.
It offers a series of features for the management of SLAs, tickets and workflow automation, through the use of a self-service portal. It also allows you to access a series of third-party integrations and have a simplified management and display of all resources.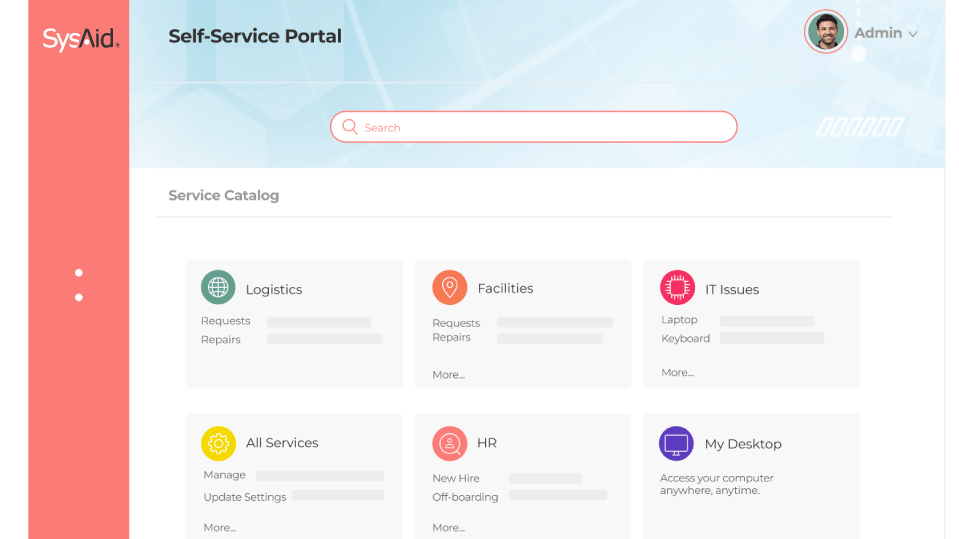 FEATURES
Sysaid help desk software features include:
If you want to know more you can see a comparison table on Sysaid.
6. ZOHO
Zoho Desk, in addition to being famous for its crm, also has a help desk solution to manage customer support. The platform is unique and easy to use; it can be integrated with other tools already used by the company.
Among the features of Zoho Desk shared mailbox, knowledge base and live chat. Among the pluses also the assisted response based on AI and advanced automations.
However, several features are offered only with the more expensive plans, certainly out of budget for some types of medium-small businesses.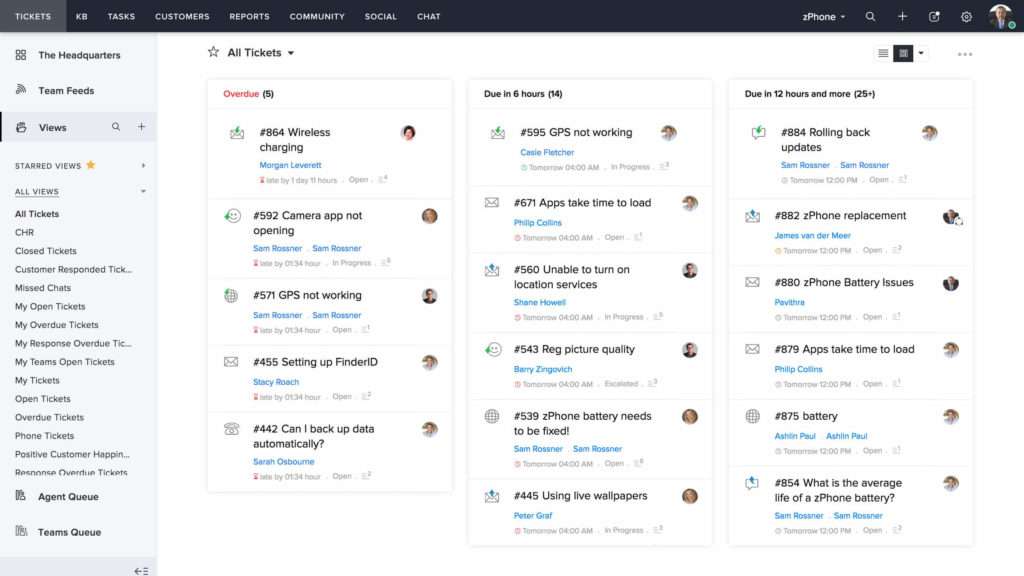 FEATURES
Zoho Help Desk software features include:
7. MANAGE ENGINE
Manage Engine Service Desk Plus is a solution designed for MSPs with advanced project management and IT asset management (ITAM) capabilities.
It provides a complete package of IT Service Management (ITSM) and modules dedicated to Knowledge base, Configuration Management Database (CMDB), a virtual assistant with AI and efficient SLA management.
Manage Engine is a software with many functions that allows you to easily manage incidents, increase agent productivity and easily manage services and contracts. However, many of the features present are not available in the basic license.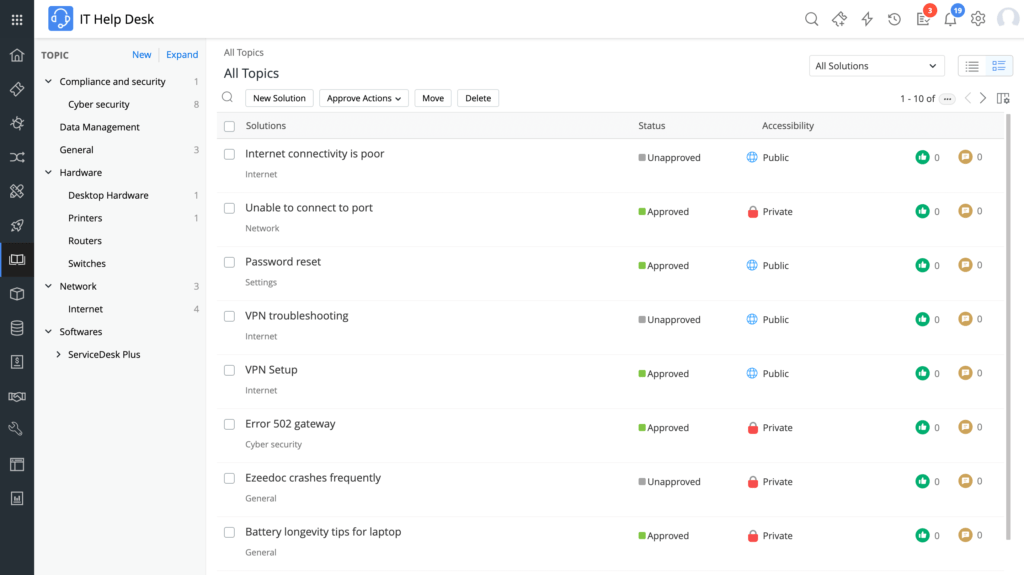 FEATURES
Manage Engine Help Desk Software features include:
To compare some features, you can look at this comparison table on Manage Engine.
8. OSTICKET
osTicket is a customer support system designed to organize and manage support requests. The platform used is multi-user and web-based.
With this open source software, it is possible to manage in a transparent and easy way the incidents created by the users through emails, web forms and phone calls.
osTicket is considered among the best open source ticket systems, thanks also to the many features available. It also has a powerful API that allows you to integrate the tool with third-party solutions and is simple to install.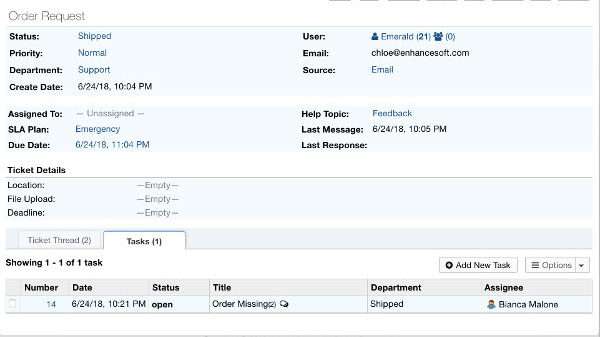 FEATURES
The functionalities of the osTicket help desk software include:
Self-service portal
To compare some features, you can take a look at this comparison table on osTicket.
9. FRONT
Front is primarily known as a shared email management software inbox.
With Front, you can connect e-mails, SMS and social media accounts in a single shared mailbox. It includes productivity-related features such as internal notes and some automation features to reduce manual work. In addition, it offers analysis tools and integration with external tools but available only with high-cost plans.
Unfortunately, despite having multiple features, Front does not include a knowledge base for managing FAQs or a live chat tool for real-time support.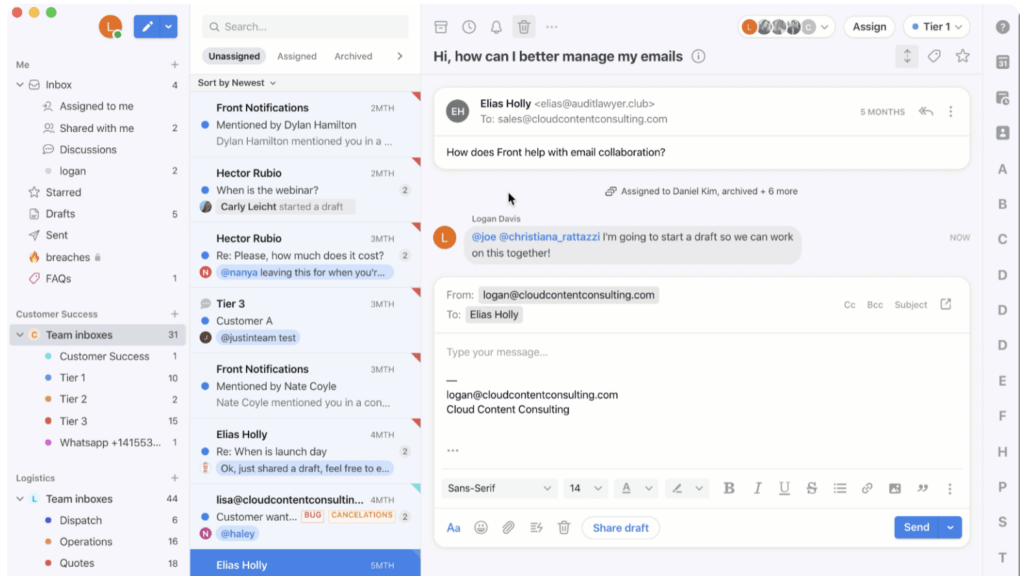 FEATURES
Front help desk software features include:
10. SOLARWINDS
SolarWinds is a cloud-based IT asset management and service desk software. Among the pluses, automation tool, artificial intelligence and machine learning to simplify support services and enhance employee self-service. With SolarWinds Service Desk you can take advantage of a self-service portal, automate ticket management and use authentication tools such as AD and LDAP.
SolarWinds allows companies to standardize requests and processes, ensuring time and cost optimization.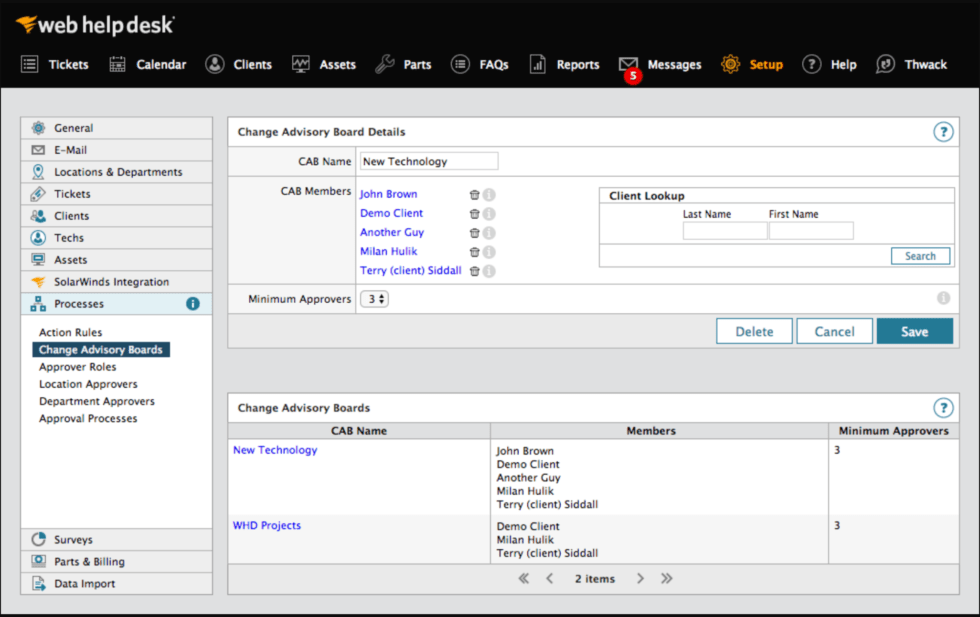 FEATURES
SolarWinds Help Desk Software features include:
FAQ – Questions and Answers
What are the advantages of adopting help desk software?
The main advantages of using a help desk software are: improvement in response times, optimization of time and costs, improvement in service quality, greater customer satisfaction and higher speed of intervention in case of criticality.
How to implement an efficient Help Desk service?
Implementing an efficient and well-structured service is a fundamental operation for companies that offer support to their customers. First of all, it is important to define objectives and priorities, choose the right partner and the most efficient tools for organizing processes. The benefits that you will obtain are many and will improve the quality of your work and life. Find out some useful tips on how to best implement the help desk and service desk service.
How much do Help Desk software cost?
The costs of a software of this type are variable and can range from approximately $ 10 to $ 100 per month per technician. To simulate and calculate a hypothetical cost of your help desk software, use a price calculator.
There are many proposals on the market and the best way to choose the correct help desk software for your company is to test it, as well as carefully evaluate all its qualities, pros and cons.
To start your research on the right foot, you can activate a free demo.
subscribe to our newsletter
We send out useful newsletters about new features, release of latest Deepser updates, and more. Sign up!